MacTech is a unique conference held in Los Angeles each November, designed for a niche community of world-class professionals working with Apple technology across contexts, disciplines, and cultures. Attendees come from all over the world for the 3-day conference, filled with elevating workshops, sessions, activities, and opportunities to meet so many interesting and interested people working with Apple technology in diverse ways around the planet.

I had the honor of being invited to speak there last year and can confirm that it's everything it's cracked up to be: a first-class experience, through-and-through, thanks to the efforts of Neil, Ed, Jan, and the whole team. I'm grateful to be among the impressive list of speakers that have been invited to present this year, too.

This year, I present: "A Few Things Right: Insights from Live and Simulated Incident Response"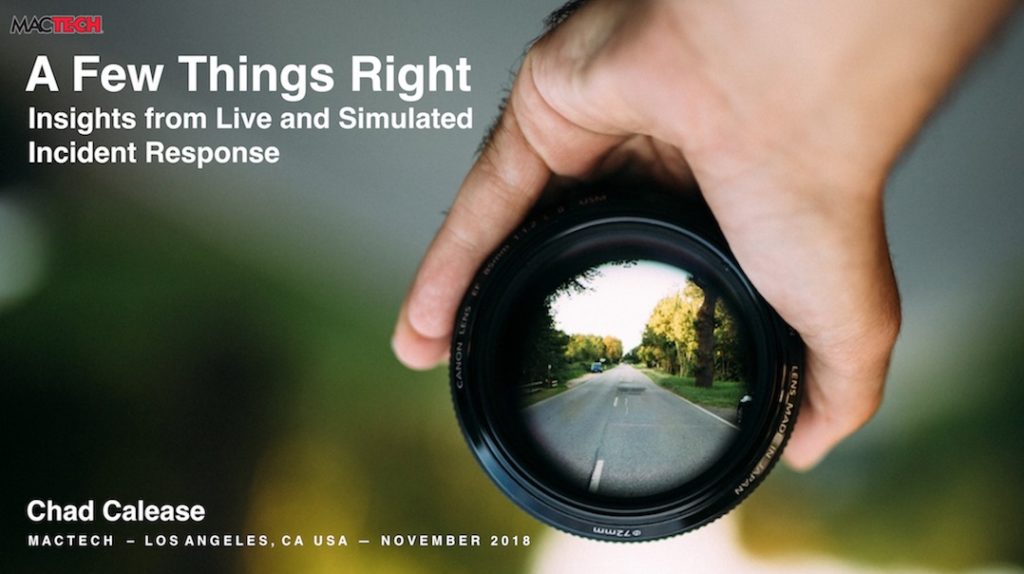 SYNOPSIS
The illusion of 100% Cyber Security 100% of the time is gone. While we continue to support the concepts of compliance, defense, governance, and prevention, we must shift our focus beyond those measures with more emphasis on strategic response to incidents. This talk offers real stories of failure and practical, quick-win lessons on how to be prepared to respond quickly, accurately, and confidently when incidents occur. Because they will occur. Doing some important things well means opening our hearts and minds to a new way of thinking and learning about what it means to be prepared for a crisis in order to protect our productivity, reputation, and bottom line.
As ever, my focus remains on Resilience, this time through sharing some stories of the seemingly countless ways I've failed in order to break through to what works well.
In any case, I'm looking forward to attending the excellent sessions this year, learning more, seeing some old pals, and making some new ones, too.